Interactive
ENTERTAINMENT
BASED ON
audience requests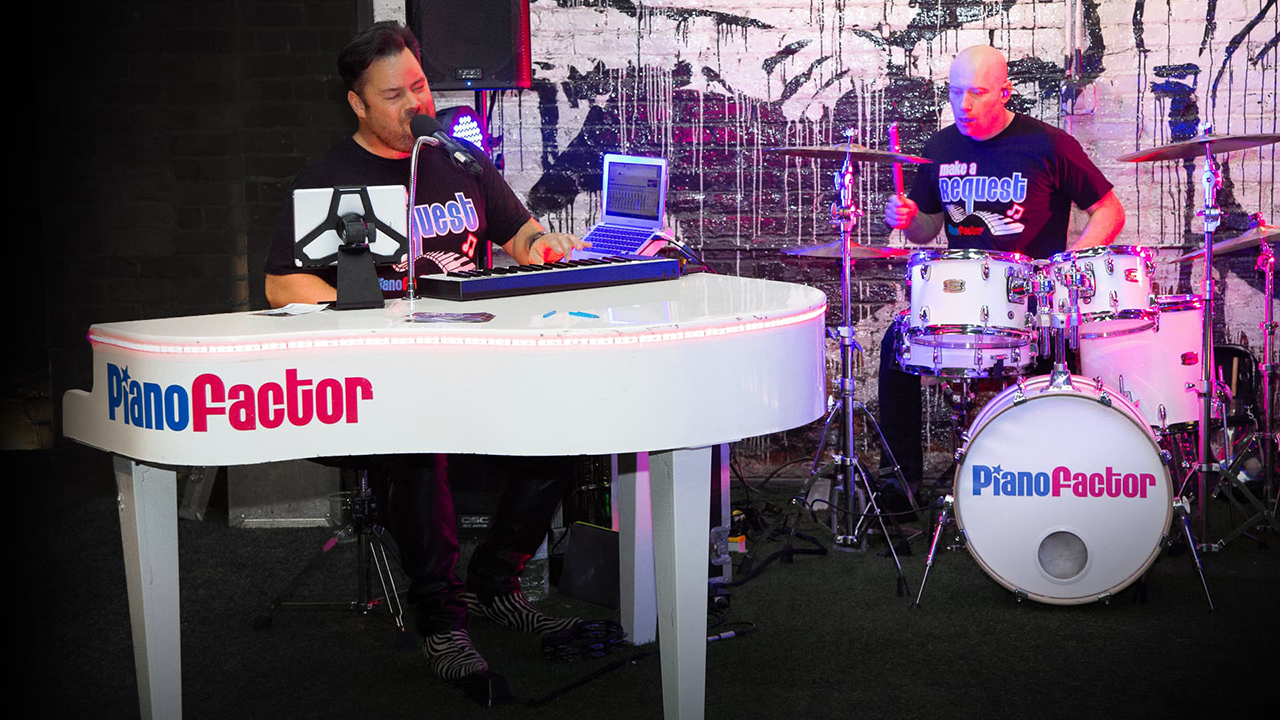 One Piano Shows
Live Piano music is contagious - It's a form of entertainment that people are drawn to and want to gather round the piano and have a sing-song. Our One Piano Shows bring this fantastic concept to your event and with one of our top piano entertainers leading the show, you are in for a real treat. Our performances are focused on audience requests and interaction.
Our Piano bar Entertainers are able to play pretty much anything requested. Their huge repertoires are ever expanding and they are truly experienced in working with the crowd and being able to build up an ecstatic atmosphere. It's an immersive and interactive performance that grabs the hearts of all who attend.
Top Piano Entertainer
Audience Requests
Huge Repertoire
Interactive Performance
With a baby grand piano centre stage and a variety of different lineups, we can cater for any size event.

The biggest line-up featuring 5 band members is the One Piano Show XXL show which includes:
Baby Grand Piano, Drums, Saxophone, Electric Guitar and Bass Guitar.
Professional sound and lighting is also included, making for a spectacular show.

For more details regarding the various line-ups, options and prices, please click on the button at the bottom of this page.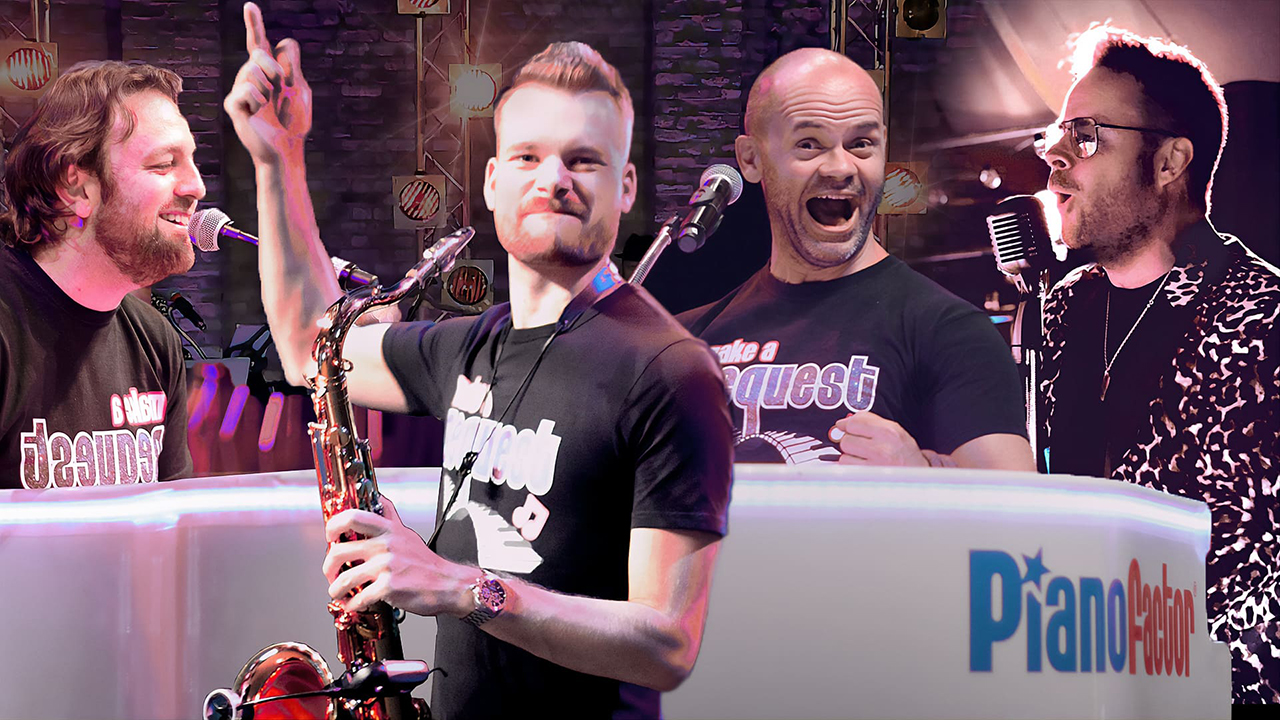 What is the format?
Our Piano Entertainer will open the show with some big anthems and floor fillers to grab everybodys attention and get them up dancing. Request slips and pens will be available for all of the guests and we will announce that everyone is welcome to come up and make a request. As the requested songs are performed, We will sort through the request slips, putting them into an order of play. This way we can keep the flow of the event going and keep people singing and dancing. We encourage audience participation throughout the performance, motivating the guests to sing out and join in with us as we perform.
Mad piano skills
Audience participation
Big anthems
Singing and dancing
All of our performances are full of energy and flambouyance. The PianoFactor team always puts in 100% as we love performing and can't wait to be on that stage in front of an audience. Performing and entertaining is what we do best and we cannot wait to entertain you!
If you would like to get in touch regarding and event then please click on the following link: Event Enquiry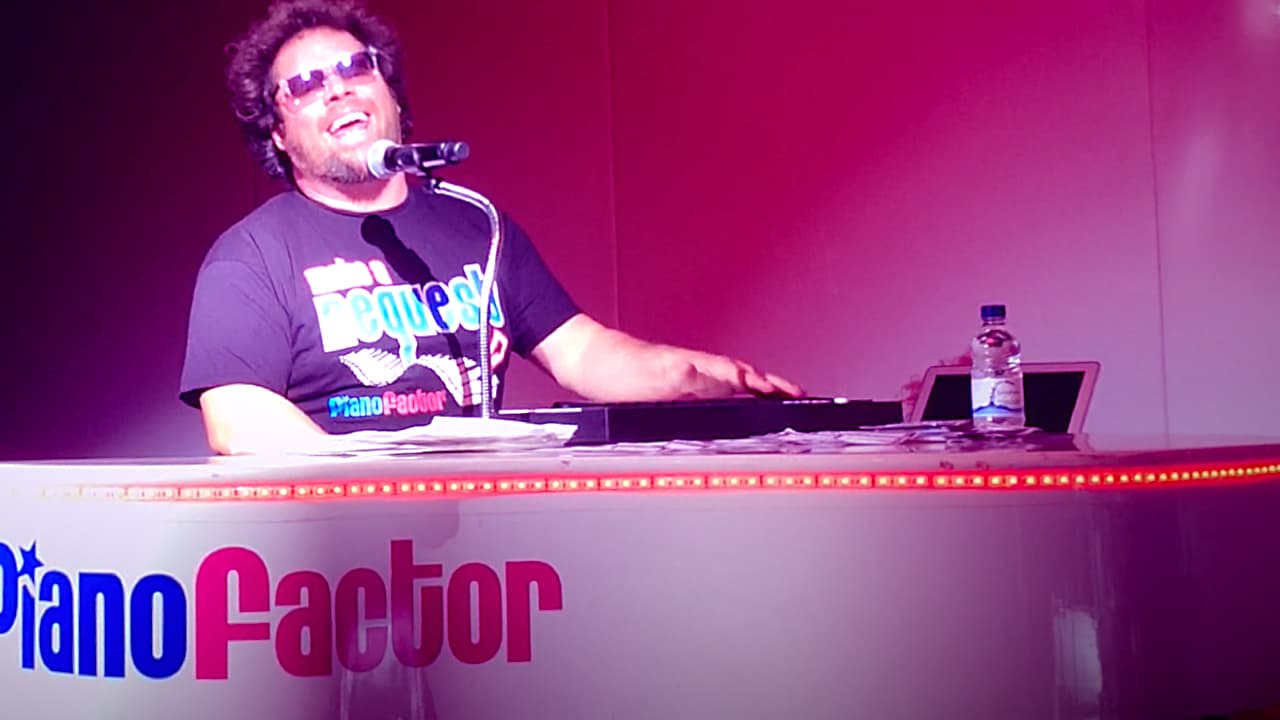 Why choose PianoFactor?
Established in 2009, PianoFactor's team consists of the best entertainers and musicians in the business. The performances are truly interactive and the team strive to get all of the guests involved at every single event. PianoFactor go all out on stage and are not happy until every person in the room is having the best time possible. PianoFactor also offer a range of line-ups making the show suitable for events of all sizes.
The sound and lighting equipment is of a high caliber allowing PianoFactor to perform at events of any scale. The custom built white baby grand pianos are kept in pristine condition and look stunning in any setting. PianoFactor is a full time business run at a professional level. We have an outstanding track record and our customer reviews say it all. Rest assured you will be more than happy with the service from start to finish.
Top entertainers
100% Energy on stage
Various Line-ups
Outstanding reviews
Whatever the occassion, PianoFactor will provide you with an unforgettable night of music and entertainment. The magical entertainment of our One Piano Show will have everyone wanting to join in and sing along. A spectacular show featuring an outstanding team of professionals and a performance not to be missed!